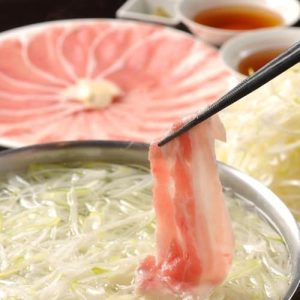 hello.
Luo Pig Ginza Glasse.
If you want to enjoy delicious Japanese food in Ginza, please come to our restaurant.
We offer a wide variety of dishes, mainly shabu-shabu.
◆"Shabu-shabu" with delicious black pork is superb! ◆
~A taste unique to our restaurant~
The black pork that our restaurant uses is Kyushu's proud brand pork "Kirishima Kurobuta".
It is characterized by its odorless and moist texture, as well as its umami and sweetness.
At our shop, if you shabu-shabu with plenty of sasa-uchi green onions,
Take it like a green onion and enjoy it together.
For the dipping sauce, we have prepared a special "Soba Tsuyu"!
Kagoshima soy sauce is added to dashi stock such as kelp and bonito flakes, resulting in a light taste.
You can enjoy our unique shabu-shabu where you can fully enjoy the taste of the meat.
You can enjoy our signature "Black pork shabu-shabu" for lunch or dinner.
Please enjoy it in various scenes such as girls-only gatherings, banquets, and dates.
~Don't forget to try the specialties using black pork~
In addition to shabu-shabu, we also have a menu that uses delicious black pork.
All of our Japanese dishes are prepared using a variety of cooking methods and are particular about the taste that is unique to our restaurant.
Juicy black pork ribs accented with yuzu pepper is addictive, and
"Kurobuta Daiban Yam Tsukune (with yolk flavor)" is a soft and fluffy tsukune served with a rich egg yolk.
"Marunasu Kurobuta Dengaku", which is made by putting minced black pork miso on top of round eggplant, is a perfect combination of eggplant and dengaku!
As we have more in addition to this,
Please enjoy each different taste.
・┈┈・┈┈・┈┈・┈┈・
1 minute walk from Exit C8 of Ginza Subway Station.
[Rabu Ginza Grasse], where you can enjoy a meal with a beautiful view from the 10th floor,
You can use it from dating to entertainment.
We are looking forward to your reservation.
※The image is an image.