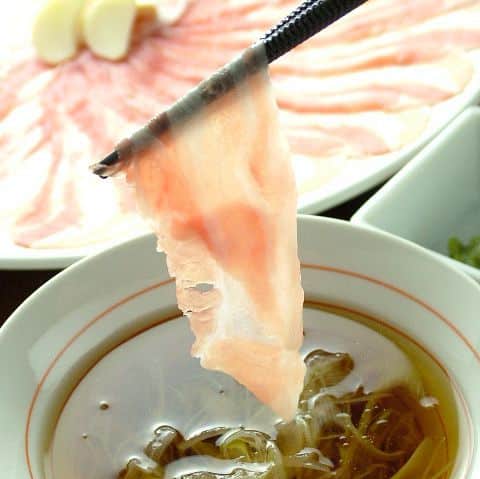 hello.
RABU Ginza Grasse.
Black pork shabu-shabu, which is delicious as it is, is available with additional sauce.
◆You can add sauce to our signature "Black pork shabu-shabu"! ◆
~Enjoy the strange taste~
Enjoy black pork procured from a contracted farm with special soba sauce and plenty of green onions.
Our specialty black pork shabu-shabu.
Yuzu pepper made simply with yuzu peel, chili pepper, and salt goes well with the umami and sweetness of black pork.
In addition, it is an indispensable supporting role that makes the inside of the mouth refreshing as a tangy and refreshing accent.
This is enough delicious black pork shabu-shabu, but to make it even more enjoyable,
We have prepared additional sauce!
<220 yen (incl. tax)> with ponzu sauce is recommended when you want to eat lightly.
If you want to pair it with rich sesame, use .
For those who want both the rich taste of sesame and the spiciness, please try !
Our black pork shabu-shabu, which you can enjoy while changing the taste according to your taste and mood of the day,
You can enjoy it for lunch or dinner.
Please enjoy black pork shabu-shabu to your heart's content.
~Soba to finish the black pork shabu-shabu~
After enjoying various flavors of black pork shabu-shabu with vegetables and sauce, soba noodles are waiting for you.
Soba noodles with a firm texture and deep aroma will be eaten smoothly even when you are full.
Enjoying soba noodles after shabu-shabu…isn't this a unique way to enjoy Japanese cuisine?
This delicious soba is also available as a single item,
If you like it, please enjoy it by itself!
——————————————
1 minute walk from Exit C8 of Ginza Subway Station.
At [RABU Ginza Grasse], which can also be used for dates, girls-only gatherings, and entertainment,
We are welcoming customers with thorough measures against infectious diseases.
Please spend a wonderful time at our shop.
We are looking forward to your visit.
※The image is an image.